We decided to stop selling the original one-cable kit. But hang on, "One-Cable Kit On Steroids" is coming!
Instead of just providing a simple connectorbox, we are planning to stuff that little box with loads of MIDI functionality.
This will result in the "GORDIUS Tiny Box", a very powerful yet very easy to program advanced MIDI processor.
Finally you will be able to own a high end MIDI controller without spending loads of cash!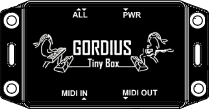 We don't have a release date yet for this new product, but you can leave your email address at our
new website !
in order to get notified as soon as we have more news for you.
Using a Kemper profiler ?
Then we have more good news for you: there will be a Kemper specific version of the TinyBox, which will add some really cool features to the Profiler
Read about it
here !